For the best corporate event entertainment Brisbane has to offer, look no further than Decibels Entertainment. We'll help keep your attendees off their phones, and help them to enjoy the event you've worked so hard to organise.
Keep reading below to find out how we ensure your event is exactly what you want, or, to get specific advice on what we can do to make your next event the best you've ever had, book a free consultation with Brent by calling 0418 724 079 or enquire online here.
How we'll help make your event the best you've ever had
Although we're well known in the Brisbane wedding industry, the way we deal with corporate events is a little different. When we meet with you to discuss your corporate event, we'll ask the following questions:
What did you do for this event previously?
Knowing how long your event has been going for, where you've had it before, what worked and what didn't will give us a guideline on how we can build on your past experiences to give your audience something new and fresh each time.
How do you see the event unfolding?
Understanding your vision for the event will help us shape the way we plan your entertainment. As event experts, involving us in the planning process means we'll be able to help you seamlessly craft a timeline so that nothing crucial is missed and we can help keep your event on track.
Our goal is to ensure that your event goes off without a hitch and is everything you want plus so much more
Why so many of our clients rebook
We could tell you why we think we're the best people to entertain at your event until we are blue in the face, but at the end of the day, it's easier to hear it direct from one of our clients.
Thank you Brent!!! A friend booked you for her wedding and it was on her recommendation that I hired you for my corporate event. The whole night was a huge success and you played a wonderful part by keeping everyone on track and entertained. I'm more than happy to pass your name on to anyone who is looking for a professional DJ – great value! Thanks again.

Damien R.
When you read reviews like this one it's easy to see why our corporate clients often rebook with us year on year.
Corporate Event Entertainment Brisbane
Don't get stuck with another year of boring entertainment at your corporate event, book a free consultation with Decibels Entertainment today to find out how we can make your event pop!
Call Brent on 0418 724 079 or enquire online here.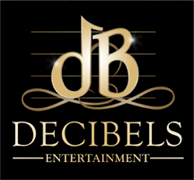 At Decibels Entertainment, your event isn't just a side gig, it's our full-time profession. We've earned a reputation for being the best in the business, so let us make your wedding, gala ball or corporate dinner one to remember from beginning to end.
As one of only a handful of professionally trained MC's in South East Queensland, Brent is the perfect choice to keep your night running smoothly. Whether it be as a Wedding MC, Wedding DJ, Corporate MC, Corporate DJ or Guitarist/Vocalist.
We'd love to hear from you! Get in contact with Brent on 0418 724 079 or enquire online here.