If you're getting married or planning a wedding and are looking for a fun and engaging wedding MC, speak to Decibels Entertainment. We specialise in creating wedding celebrations that are unique, memorable, personalised and most importantly – stress free.
Your wedding should be a reflection of you, so it is important to understand the role of the MC and communicate your desires and wants, so there are no surprises on the night. Not only does your MC host and entertain you and your guests but they also need to work closely with your photographer, videographer and function manager to make sure your wedding runs smoothly – and on time.
As full time, professional entertainers we've hosted thousands of weddings and have the expertise to bring your wedding vision to life and help ensure your wedding reception goes off with a bang!
At Decibels Entertainment, we're also the preferred wedding MC for venues across Brisbane, Toowoomba, Sunshine Coast and the Gold Coast. Contact us today on 0418 724 079 or enquire online for a customised MC quote for your special day.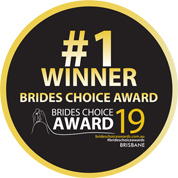 What sets us apart?
If there's a motto we live by, it's 'No surprises on your wedding day'! We've been trusted with thousands of weddings and pay attention to every little detail so you don't need to worry about a thing.
Your wedding will likely be the biggest party you will ever plan – so don't entrust the highly important role of MC to a non-professional, and certainly not to an amateur DJ.
We do this full-time and are passionate about creating a seamless, fun and memorable event for everyone involved. If this highly important role is given to a guest, ask how he or she can truly relax and enjoy themselves at your wedding with the weight of such responsibility?
We take the time to understand your vision for your wedding day to make sure we get the desired tone just right. That's why so many couples trust Decibels Entertainment to MC their special day.
We take our role as Wedding MC seriously, and take the time to get to know both the bride and groom to ensure the reception party is a reflection of you. Often times, where desired, we might weave in some fun games and social interaction between you and your guests – creating memories that will be remembered long after your wedding is over.
Don't overlook the importance of your wedding MC – the earlier you speak to us, the more we can help.
A few reasons to choose Decibels Entertainment for your wedding:
More than just an MC and DJ – BE ENTERTAINED!
Internationally trained using the 'Marbecca' method
Accredited founding member of the DJ Alliance of Australasia (DJAA)
Experienced in event management– we will co-ordinate with all of your wedding vendors on the day to ensure everything runs smoothly
Online planning system so you can add details about your event 24/7 prior to the big day
Professional service and expert time management at your event
Personalised MC service– we take the time to get to know you and help you plan the entertainment at your wedding
Industry-leading equipment compatible with all venue AV systems Experienced at reading the room and able to tailor the music
What's involved?
Tell us all about your wedding vision, the style of event you want, your expectations and inclusions for your runsheet
We'll develop a personalised package and schedule based on your desired wedding inclusions
We can also add themed LED lighting effects, Projector-grams, pin-spotting, photo-booths and so on to really personalise your event.
On the day of your wedding, we'll pay attention to all of the little details and adapt to the atmosphere in the room to make your event one to remember
Contact Us
If you're looking for a professional Master of Ceremonies for your wedding in Brisbane, Toowoomba, on the Gold Coast or Sunshine Coast, you can trust Decibels Entertainment to make sure your special day is just perfect.
Contact us today on 0418 724 079 or enquire online for a personalised quote for your one-of-a-kind wedding.